What I Learned from TiAC
The Transitions in Adult Care (TiAC) module of our website is a one-stop resource to help caregivers and their loved ones prepare for the challenges that may arise due to changing care needs and ageing. We're excited to launch TiAC as part of Caregiver Awareness Month this year, and we're even more excited to find out what you learned as you clicked through the pages and linked resources.
We requested feedback from caregivers and community partners prior to the launch, and the response was tremendous. As part of that request, we asked respondents to tell us what they learned which you'll see in the photo collage below.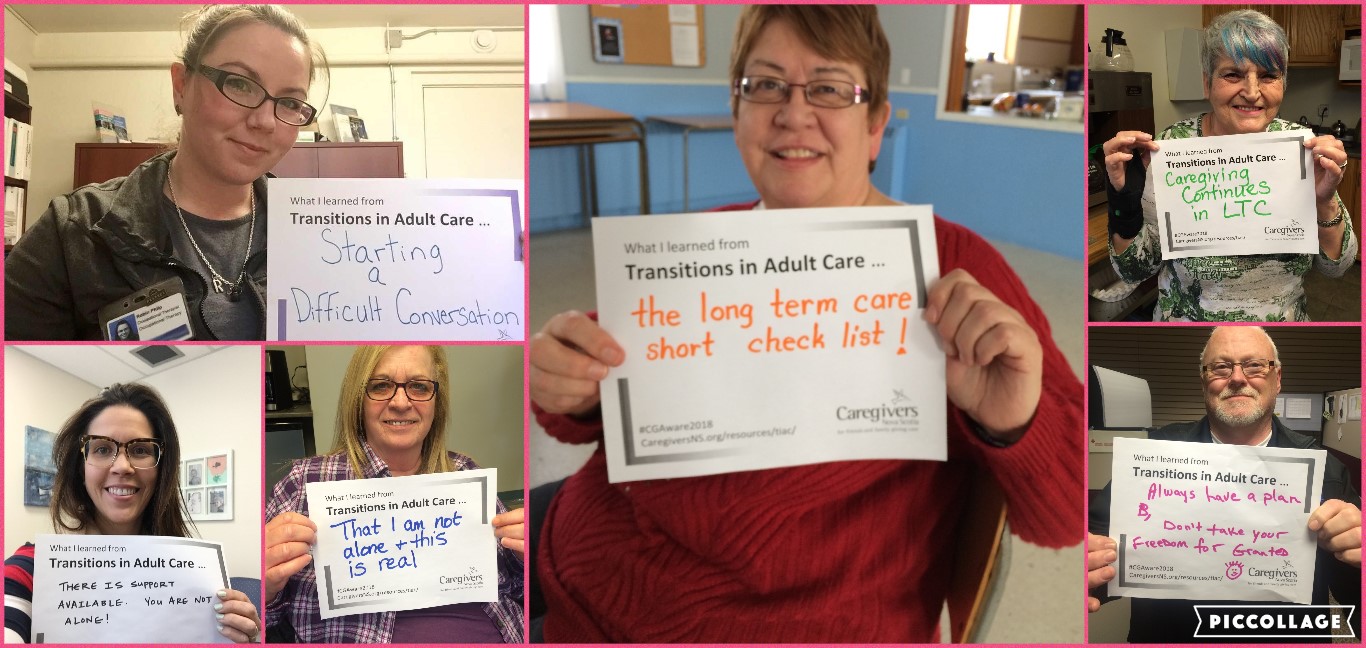 It's not too late to participate in the What I Learned from TiAC campaign! Here's what to do:
Download and print our photo frame and write a few words or phrases about TiAC that had an impact on you. (See photos above for some great examples.)
Take a selfie or have someone take a photo of you holding the photo page.
Share the photo on social media
Tag your friends and colleagues in your post to encourage them to do the same. (To tag someone, just start typing their name and Facebook will suggest friends from your list. Click their name to include them.)
Please remember to include #CGAware2018 in your message. This way, Caregivers Nova Scotia will be notified of your post, and it will be included in the social media conversation.
If you're on social media but don't want to share a selfie with your message, you can:
If you see a What I Learned from TiAC post on Facebook or Twitter that speaks to you, leave a comment on that post!
Complete our survey
If you're not on social media but want your photo to be included in the campaign, send it to Info@CaregiversNS.org and we'll make sure to include it.